Belting it out in Synagogue
Sister Act was one of my favorite films growing up; in fact I was kind of disappointed that we couldn't sing gospel-style music in Synagogue.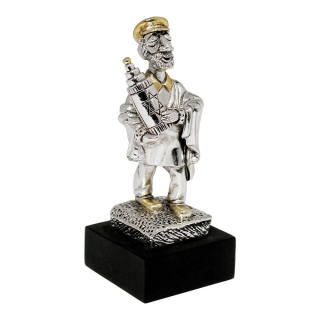 I would giggle trying to think of the ladies in my synagogue belting out hymns, swaying from side to side and yelling "Mmmmm you said it Rabbi!" when the Rabbi would say something particularly inspiring in his sermon. I have not yet found a Synagogue that fulfils this perhaps strange desire but have found much satisfaction along the way in the different ones I have encountered in all the different places I have lived.
Ezra Gale on African-American-Jewish Musical Connections
Either way, I was excited to read a piece by Ezra Gale in SF Weekly from a couple of years ago. Entitled Exploring the Jewish influence on black American music, the piece explains how these cultures' musical history overlaps. Allow me to break it down for you…
More Commonalities Than Differences
Gale starts out by admitting that probably the first thing that comes to mind when thinking of the African American and Jewish communities is strife. Unfortunately the media feeds this fire by publishing the ugly stories of altercations, violence and distrust between the communities. However, Gale reminds us that it wasn't rare for African American and Jewish leaders to collaborate- after all, we are speaking of two cultures that know only too well what it is to suffer racism and persecution.
Who Influences Who?


Interestingly enough, the subject of Jewish involvement in African American music has been spoken about time and time again but the subject of African American involvement in Jewish music less so. At the time of writing, Gale shared with readers that the Contemporary Jewish Museum had an exhibition on about the, "Secret Musical History of Black-Jewish Relations" that explored this subject and presented a fascinating picture of the influence of Jewish and Yiddish culture on black popular music in the twentieth century.
African Americans Singing…about Israel
The Idelsonhn Society for Musical Preservation decided to use the exhibit in order to explore the involvement of black people in Jewish music and were inspired to do so after the extraordinary discovery of a record from the late fifties in which Johnny Mathis sings "Kol Nidre" which is the Hebrew prayer recited at the beginning of Yom Kippur, the holiest day in the Jewish calendar.
When trying to figure out why Mathis, who at the time was at the height of his career, would be singing a song sung in Jewish synagogues the society soon uncovered other unusual discoveries such as Billie Holiday, Marlena Shaw, the Temptations and the Supremes in recordings of other Jewish-themed songs!
Apparently a CD was set to be released in September of 2010 of a multiltude of African American artists singing Jewish-related songs. I wonder if it's still around; I would love to get my hands on one of those! In fact, I would have loved to have gone to that exhibit, which apparently included themes such as the role of Yiddish in the thirties jazz and blues and the singing about Israel by black artists in the fifties.
Gale sums his article up by expressing hope in a new chapter for Jewish-black relations. As far as I'm concerned, I would still love to invite a black gospel group to Synagogue…
Rivkah Abrahams writes for Ajudaica(dot)com blog. She loves music, spirit and all that is in between. To see more unique items such as in the above post, you can visit: http://www.ajudaica.com/category/216/Figurines/
Photo Credit: http://www.flickr.com/photos/20613684@N00/23824638/
Featured image:
 License: Image author owned
Related articles
0
Be the 1st to recommend