Today, my well meaning aunt who works to develop small businesses, strongly urged me not to delay searching for a traditional job. Whereas I thought any prospective employer would give me a pass for trying out my entrepreneurial skills, it became apparent through our conversation that that may not be the case. Employers for the most part want to develop someone who will stay with them; it's not attractive to engage someone who may want at any and every moment to run off to pursue their own interests. Apparently the entrepreneurial track becomes like a virus—it enters your blood and lodges there deep within your cells. It may get to the point where you absolutely can't work a secular job.
Maybe getting a new "interview suit" will put me in the spirit of things. I got rid of all my work suits several years ago (along with pantyhose yea rah). The last eight years with my previous employer was always business casual and less. By less, I mean that some men came into the office wearing shorts and athletic shoes. I would buy the occasional jacket but nothing formal (matching two piece), rigid, boned or uber tailored. It's a nightmare to even think about going back to wearing suits, hose, heels on a daily basis.
Anyway, as I didn't wear the suits, the precious closet rack space became a memento to change. After Katrina, I donated several of them to a family of women who moved to Georgia after the devastation. When that didn't hurt much, I donated the remaining to other women's organizations. If I got called for an interview tomorrow, I would not be prepared dress wise. Take a trip with me to my favorite clothing store Macy's. They have a nice selection of executive corporate suits, as well as business casual, dresses, and what I call soft dressing. That is like a knit button sweater with a teddy or silk tee underneath, paired with a pant or skirt that provides a little give, or a nice dress paired with a knit wrap. I used to have a wardrobe for work, for evening, and one for working out. I absolutely now look for clothes that will go the extra mile to wear at work, and wear out at night, and are washer friendly. You want to be some sexy when you play at night, and nothing is wrong with being a smidge sexy at work, but the trick is to not let your clothes be a distraction. If you are giving a presentation, you want the audience to hear you, and focus on your words, not lose your message cause they are staring at the metallic and crystal bling framing your décolleté. Ok if you didn't have time to work on your presentation, maybe a little distraction will work well, lol. But you get my drift. Here are a few tops I'm looking at:
This one works will work well in any office and out and about during the week or weekend.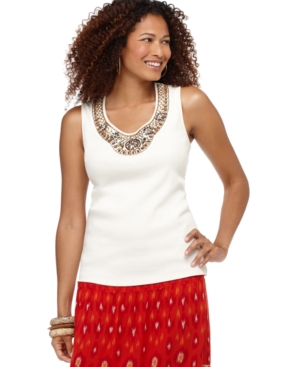 Though I'm underwhelmed by the print on this skirt, I like the idea that comes across with the scarf – it's soft but also very professional. The scarf gives a little bit of zing and character to keep the outfit from being dull. Actually long draped layered chains of different sizes and textures would also work.

Both of these blouses can work double duty as work gear or sexy evening play. For work, drape them over black, brown or even cream colored trousers with a fitted sweater or soft jacket. For evening let your imagination run wild with accessories, jeans, or maybe leggings.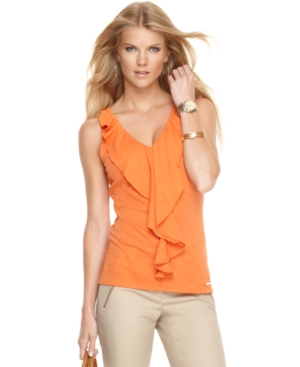 Absolutely love love love this top – it's cotton and spandex so it will have some give. It's crisp and will look great over simple black trousers, also it's a little fitted thru the waist so will also look great with a skirt, and black fitted sweater. Happy hunting to you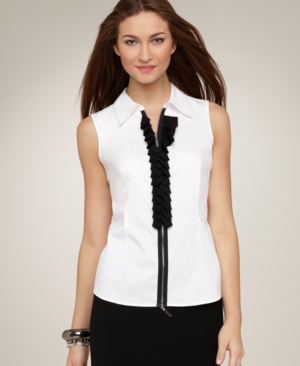 0
Be the 1st to recommend